To discover PartXplore and see all the advantages for yourself, click to visit the trial download page to try PartXplore for free, for a 30 days' trial.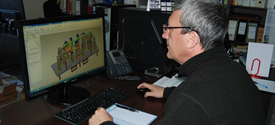 A specialist in designing and manufacturing inspection tools, particularly for the motor industry, used WorkXplore 3D to launch a project for improving internal communications and external customer service.
PartXplore enables users to communicate 3D parts and assemblies to sub-contractors, customers or colleagues using an independent application generated by PartXplore. This application is extremely compact and easy to transmit by email.