To discover PartXplore and see all the advantages for yourself, click to visit the trial download page to try PartXplore for free, for a 30 days' trial.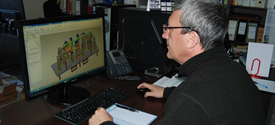 A specialist in designing and manufacturing inspection tools, particularly for the motor industry, used WorkXplore 3D to launch a project for improving internal communications and external customer service.
PartXplore has been created for the efficient import and analysis of files of all sizes and types but it is the speed at which it imports large, and even very large, 3D CAD files which is particularly impressive, often taking less than half the time to open a file compared to the original CAD application.